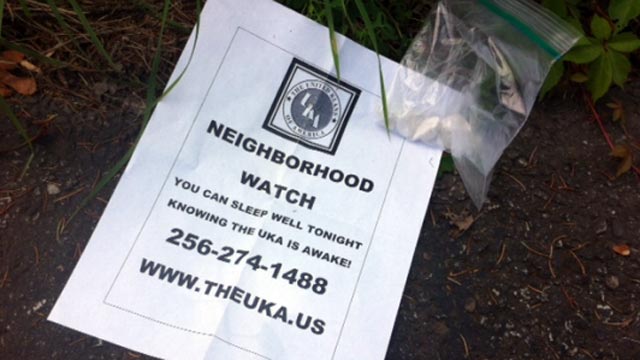 MILFORD, CT (WFSB) -
Some residents in Milford were shocked to realize what was found inside sealed baggies that were tossed onto their driveways recently.
Members of the United Klans of America, which is part of the Ku Klux Klan, have placed notes inside the bags, which are weighed down with rocks, and have been left in an attempt to reassure Milford residents that they are in the area.
The notes inside the bags read:

NEIGHBORHOOD WATCH: You can sleep well tonight knowing the UKA is awake!
In addition, there's a phone number with an Alabama area code and a website address for the UKA.
Members of the Milford Police Department said this is the first time they can remember the city having to deal with KKK activity.
Milford police said the activity cannot be classified as a hate crime because the note is pitching a neighborhood watch program rather than targeting a specific group of people.
Police said they are now looking to the community for help in figuring out where the notes came from and who has been throwing them onto local driveways.
Copyright 2013 WFSB (Meredith Corporation). All rights reserved.