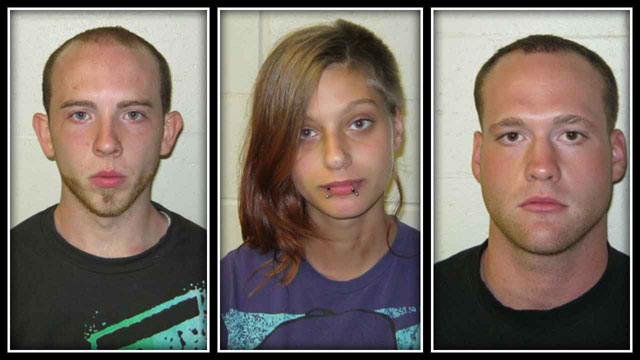 Danny Vinal, 21, of Moosup, Harley-Jane Davidson, 19, of Danielson & Mark Reasoner, 22, of Moosup
PLAINFIELD, CT (WFSB) -
Police in Plainfield said a fake kidnapping involving three people was reported in town just after Tuesday morning's standoff.
According to officials, the Plainfield Police Department received two separate phone calls that a female had been duct taped and placed in a trunk of a car on South Main Street near a Cumberland Farms gas station.
Witnesses told police that the car took off speeding down South Main Street with the female duct taped inside the trunk. Police officers located the vehicle behind the house at 46 Aldrich Avenue.
The three suspects were later identified as Danny Vinal, 21, of Moosup, Mark Reasoner, 22, of Moosup and Harley-Jane Davidson, 19, of Danielson.
Officers said the three individuals came up with a prank to duct tape Davidson, "place her in the vehicle of the car in front of several witnesses, flee the scene at a high rate of speed, and hope to alert witnesses to call the police and report a kidnapping."
Vinal, Reasoner, and Davidson were arrested and charged with second-degree breach of peace. All three of them were released on a $500 bond and scheduled to appear in court July 22.
Copyright 2013 WFSB (Meredith Corporation). All rights reserved.