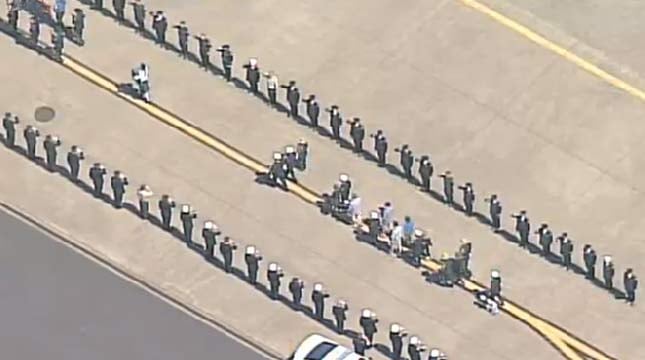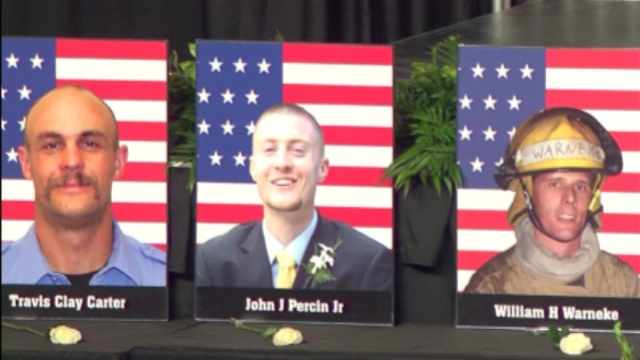 LAKE OSWEGO, OR (KPTV) -
The remains of one of 19 firefighters killed in an Arizona wildfire last week have been returned to his hometown in the Portland area.
John Percin Jr. graduated from West Linn High School in 2007. He was 24 years old when he died fighting the Yarnell Hill Fire.
Percin's funeral isn't until Friday in downtown Lake Oswego, but his family asked their local fire department if they would watch over his remains until then. Firefighters said they're honored.
"For the Lake Oswego Fire Department, it's a great honor to escort his remains and be able to watch over his vigil until he's laid to rest," said Lake Oswego firefighter Jeremy Langeliers. "The brotherhood comes together and they're doing this for another brother."
Percin's family and his remains were escorted from Portland International Airport beginning at around 11:15 a.m. Wednesday. The procession arrived at the Lake Oswego Fire Department at 12:20 p.m.
The procession started eastbound on Northeast Airport Way, then went southbound on Interstate 205, across the Abernethy Bridge to OR 43 north to Lake Oswego.
Along the procession route, people watched from highway overpasses, many waving American flags.
Copyright 2013 KPTV-KPDX Broadcasting Corporation. All rights reserved.