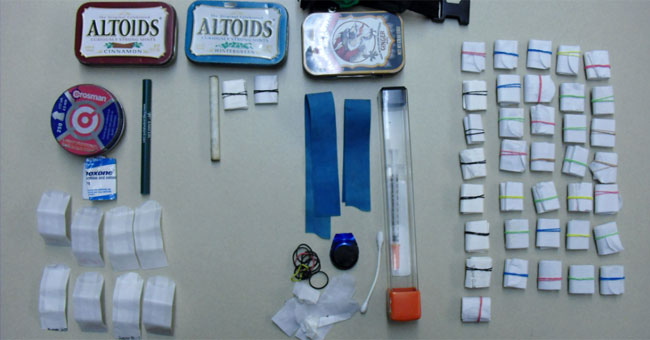 The following photo of items seized by West Hartford Police Department.
WEST HARTFORD, CT (WFSB) -
West Hartford police arrested a New Hampshire man after he was caught hiding under the driver's seat of his car, but drug paraphernalia was in plain sight.
Officers stopped a Chevy Cruz, which was being driven by 26-year-old Seth McKean of North Haverhill, NH, for failing to make signal turn in the 400 block of New Park Avenue.
McKean was found hiding under the seat, police said.
Officers discovered 368 bags of heroin, some suboxone and more drug paraphernalia.
McKean and his passenger, who was identified 34-year-old Harvey Ricker, told police that they regularly come to Connecticut to buy heroin.
The men told police that when they resell the heroin it is about 3.5 times the Connecticut price. Police said in Connecticut the heroin would be worth $1,472, but in New Hampshire it would be $5,152.
Copyright 2013 WFSB (Meredith Corporation). All rights reserved.