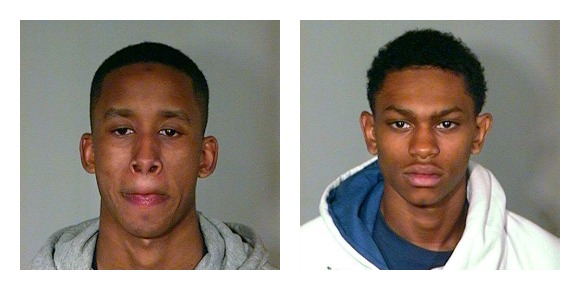 Foster-Carney (left), Miller (right)
NEW LONDON, CT (WFSB) -
New London police arrested two adults and a juvenile whom they say robbed two individuals of their mopeds at gunpoint.
According to police, 18-year-olds Hassan Foster-Carney and Dwayne Miller along with the unnamed juvenile robbed the first victim of a moped around 12:40 a.m. Saturday in the area of Ashcraft Road.
The juvenile allegedly followed the victim in a car, and then robbed the victim at gunpoint of the moped.
A few hours later, police say the say juvenile, along with Foster-Carney and Miller, robbed a second victim of a moped in the Wendy's Parking lot near Colman Street.
There were no injuries in either robbery, and all three suspects remain in police custody. The juvenile was transported to a juvenile detention facility in Hartford while Foster-Carney and Miller were held on$50,000 bond in New London.
Copyright 2013 WFSB (Meredith Corporation). All rights reserved.