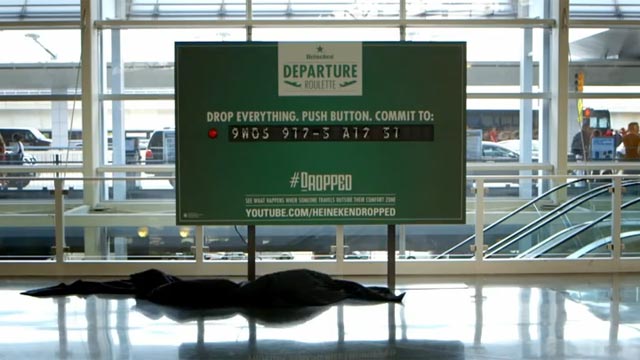 NEW YORK CITY (WFSB) -
(Note: Video above contains strong language) Picture this: You walk into an airport heading out on a business trip, going to a family wedding or simply taking a nice, long weekend when you come across a billboard asking you to drop everything, push a button and head off to a new location.
Would you do it?

Heineken did just that for its latest publicity campaign, according to an article on Mashable.

For most people inside Terminal 8 at John F. Kennedy International Airport in New York City, the answer was a simple "no."
But for some brave souls that pushed the button on the billboard set up inside the terminal, flights were immediately changed and flown to their new mysterious location.
According to Mashable, many people declined because of various excuses like a business trip or just not adventurous enough.
But for those who had the courage to do so didn't seem to dislike their new destinations.
So we want to know, would you push the button?
Copyright 2013 WFSB (Meredith Corporation). All rights reserved.