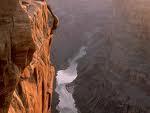 PHOENIX (AP) -
Any disagreements over a settlement reached to pave the road to the Grand Canyon Skywalk will be hashed out in federal court.
U.S. District Judge Neil Wake's order earlier this month rejects the federal government argument that the court didn't have jurisdiction over the 2007 agreement.
Diamond Bar Road runs partially through rancher Nigel Turner's property in northwestern Arizona and leads to the Hualapai reservation.
The settlement cleared the way for the road to be paved. But Turner recently alleged that the federal government breached the agreement.
Turner has until Aug. 2 to file a supplemental complaint. Wake denied Turner's bid to temporarily halt construction.
The Hualapai Tribe created a short dirt route that bypasses Turner's property after he began charging visitors to cross his land.
Copyright 2013 Associated Press. All rights reserved.