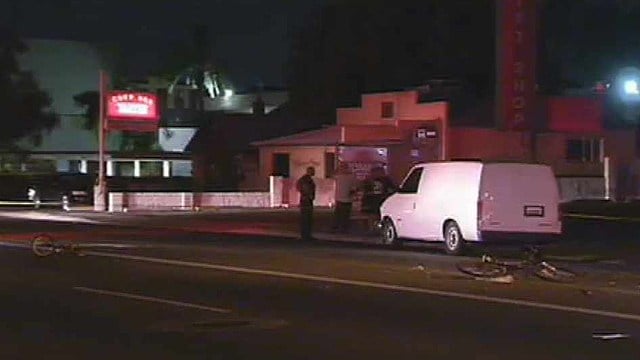 A 7-year-old boy was in critical condition after he was struck while riding his bike, left, at a Phoenix intersection. The bike on the right belongs to a family member who stopped to help. (Source: CBS 5 News)
PHOENIX (CBS5) -
The driver of a van that struck a young boy on a bicycle in a Phoenix crosswalk Tuesday night showed signs of "possible impairment," a Phoenix police spokesman said.
The 7-year-old victim was in extremely critical condition at a hospital Wednesday morning, said Officer James Holmes.
The boy was with family and friends at a QT convenience store about 8:30 p.m. near 16th street and Highland Avenue and was on his bicycle in a crosswalk heading home when he was struck, Holmes said.
Holmes said the boy was crossing against the light and darted in front of the 30-year-old driver, who told police he didn't see the boy until he was in his path.
The driver, who had the green light and right of way, stayed at the scene, Holmes said.
Holmes said the driver was not injured and refused a field sobriety test. A warrant was obtained and a blood sample taken for analysis, Holmes said.
The van was impounded as evidence pending further investigation, Holmes said.
The boy was not wearing a helmet and suffered serious head injuries.
Copyright 2013 CBS 5 (KPHO Broadcasting Corporation). All rights reserved.