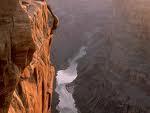 FLAGSTAFF, AZ (AP) -
A federal appeals court has upheld the abuse convictions of an Indianapolis man who forced his grandsons to take a grueling hike in the Grand Canyon.
The 9th Circuit U.S. Court of Appeals recently rejected Christopher Alan Carlson's appeal arguing that the evidence was insufficient and that the jury wasn't instructed properly.
He's serving a 27-month prison sentence with an expected release date in August.
Carlson has acknowledged treating his three grandsons roughly but said he wasn't criminally negligent and didn't endanger their lives or health.
Copyright 2013 Associated Press. All rights reserved.