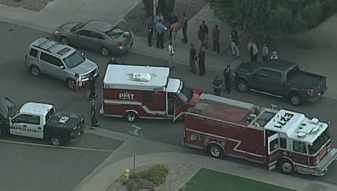 There is a large police presence in the 2100 block of E. Cairo. (Source: CBS 5 News)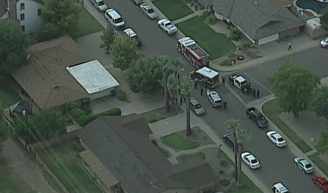 No officers were hurt. (Source: CBS 5 News)
TEMPE, AZ (CBS5) -
A man shot dead by Tempe police officers after he approached them with a weapon has been identified.
The victim is 43-year-old John J. Wheelihan.
Detectives from the Special Investigations/Narcotics Unit were serving a search warrant at a house in the 2100 block of East Cairo, when Wheelihan appeared, police said.
Wheelihan emerged from the rear of the house and stepped into the backyard with a Whisper .22-caliber air rifle, police said. He began to approach detectives who were working a rear perimeter.
Detectives ordered Wheelihan to drop the weapon multiple times, according to police. Wheelihan raised the rifle at them as he continued to approach them, officers said. Police opened fire.
Wheelihan was taken to the hospital, where he died from his wounds.
No officers were injured.
Copyright 2013 CBS 5 (KPHO Broadcasting Corporation). All rights reserved.