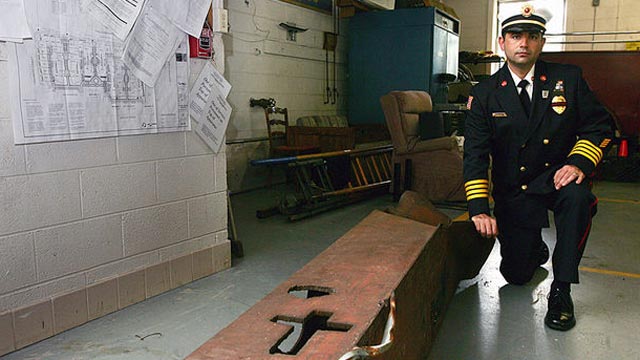 © NJ.com
PRINCETON, NJ (AP) -
Princeton officials are consulting lawyers as they wrestle with a 9/11 memorial featuring a World Trade Center beam that includes a hole cut in the shape of a cross.
Officials are worried the cross could lead to lawsuits over the separation of church and state.
Deputy Fire Chief Roy James has pursued the memorial plan for three years and he secured the 10-foot-long, 2-ton steel beam last year. James tells The Times of Trenton the cross is a symbol of remembrance and has nothing to do with religion.
Councilwoman Heather Howard says the town must do due diligence to determine if the government is promoting one religion over another.
James says he's opposed to plans to hide the cross.
Princeton's Historic Preservation Commission will review the plans.
For more information about this story, click here.

Copyright 2013 The Associated Press. All rights reserved.