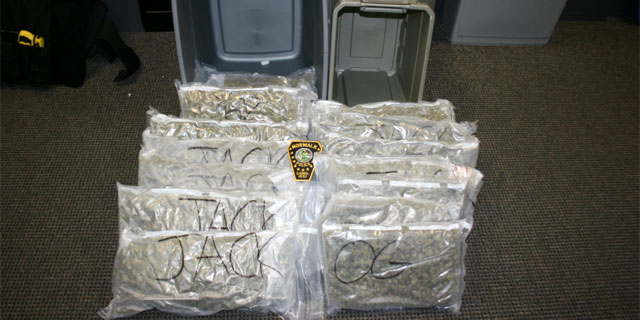 The following photo of marijuana seized was provided by the Norwalk Police Department.
NORWALK, CT (WFSB) -
A California man is under arrest for shipping 14 pounds of marijuana to Norwalk.
Police said Edward Walker addressed two packages to an person at the city of Norwalk.
Police intercepted the drugs after a police service dog made "positive indication for the presence of contraband" in the packages.

Undercover officers contacted Edwards saying the boxes were shipped to the wrong address.
When he flew into Connecticut Thursday to pick up the package, Edwards was arrested after meeting up with an uncover officer on Connecticut Avenue.
Edwards was charged with the following crimes:
Possession of a Hallucinogen more than 4 oz
Illegal manufacture, distribution of Marijuana
Illegal Possession of marijuana within 1500 ft of a school
Sale possession of marijuana within 1500 ft of a school
Edwards is being held on a $500,000 bond.
Copyright 2013 WFSB (Meredith Corporation). All rights reserved.