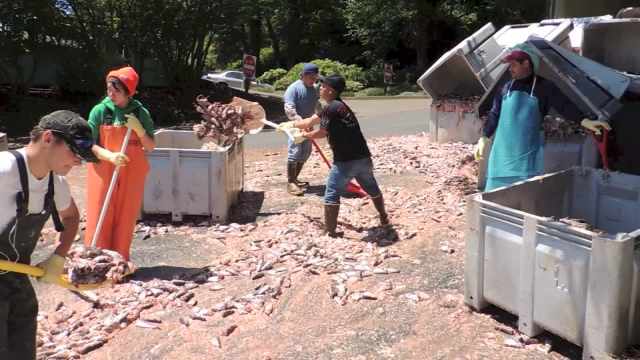 NEWPORT, OR (KPTV) -
A load of hake went to heck in a hurry after a truckload of fish guts spilled all over the street on the Oregon coast.
Police said a truck backed up to a fish waste plant in Newport to collect a load of hake fish parts at 2:30 p.m. Friday. When the truck pulled onto Hatfield Drive, the whole load emptied out onto the street.
The driver was not cited because police said this happens more than you'd think.
Officers said the truck has to back all the way up to the building to collect the load. Once the fish parts are loaded, it pulls forward so the back of the truck can be secured.
In this case, that obviously didn't happen. Crews used shovels, buckets and brooms to clean up the big fish-soaked mess. To their credit, some smiled and laughed as they took on the pungent project. One worker even said the situation was, "a nice change of scenery."
It took about a half-hour to completely clear the road.
Copyright 2013 KPTV-KPDX Broadcasting Corporation. All rights reserved.