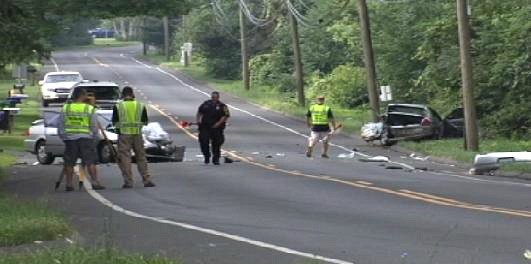 BLOOMFIELD, CT (WFSB) -
Police continue to investigate an early morning crash on Blue Hills Avenue in Bloomfield which injured three people.

According to Bloomfield Police, officers were called to the crash scene at 3:49 a.m. near 1266 Blue Hills Ave. Officer located an injured male lying in the roadway suffering from head injuries and bleeding severely. The male was unresponsive and was transported to Saint Francis Hospital.

Officers then located a female standing near a car, which was facing north in the northbound lane. The vehicle sustained heavy front end damage and the female complained of pain in her chest and arms.
Police then found another car that was heavily damaged and was lying partially in the road and partially on the shoulder of the west curb of Blue Hills Avenue. A second male party was found in the woods along the west curb of Cottage Grove Road and was suffering from injuries to his face chest and arms.
The second male was also transported to St. Francis Hospital to be treated for what was reported as life threatening injuries. The female was transported to Hartford Hospital for treatment. Both cars were towed to the Bloomfield PD impound lot and secured for inspection.
The North Central Municipal Accident Reconstruction Squad was called out and took control of the investigation of the collision.
Copyright 2013 WFSB (Meredith Corporation). All rights reserved.