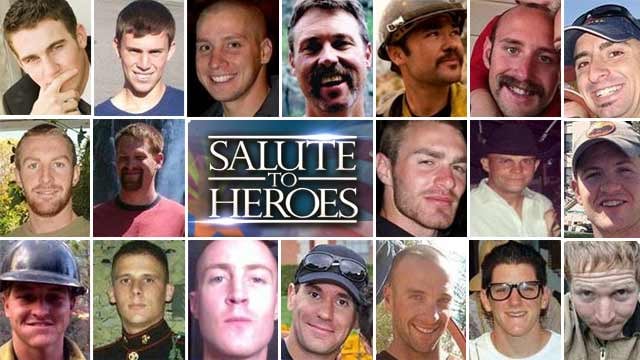 (Source: CBS 5 News)
YARNELL, AZ (CBS5) -
Tuesday marks one month since 19 Arizona firefighters were killed battling a wildfire near Prescott.
Nineteen of the 20 members of Prescott's Granite Mountain Hotshots crew died on June 30 by wind-fueled flames of the Yarnell Hill Fire.
The community of Yarnell was forever changed. They also lost more than 100 homes in the wildfire.
More than 600 firefighters from across the country came to Arizona to help battle the lightning-caused wildfire that burned more than 8,377 acres.
An estimated 30,000 people, including firefighters representing each state, gathered at the memorial service for the fallen firefighters at Tim's Toyota Center in Prescott Valley.
In addition to the memorial at Fire Station 7, the firefighters will be honored at Pioneers' Home Cemetery in Prescott. It's the final resting place for 10 of the hotshots and will also be home to nine more headstones and a monument for the fallen heroes who are so deeply missed.
On Friday, a benefit concert featuring jazz musicians will be held at the Orpheum Theater in Phoenix. All proceeds will benefit the families of the Granite Mountain Hotshots. The event starts at 6 p.m. [Click here for other ways to help.]
Copyright 2013 CBS 5 (KPHO Broadcasting Corporation). All rights reserved.