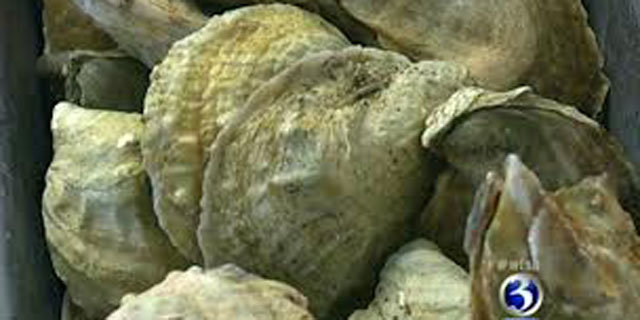 HARTFORD, CT (AP) -
Warm water in Long Island Sound is being blamed for a naturally occurring bacteria in Long Island Sound that sickened at least five people who ate oysters, clams and other shellfish from shallow areas near Norwalk and Westport.
The state has recalled shellfish before due to pollution from storm water runoff or similar reasons. But the Department of Agriculture says a recall announced Monday due to naturally occurring bacteria is a first.
David Carey, director of the agency's Bureau of Aquaculture, says the extreme heat in mid-July is partly to blame for the warm water in shallow areas of the Sound. The state has shut shellfish harvesting areas until September when the water is expected to cool down.
The following licensed Connecticut original shippers, who are also known as harvesters are associated with Recall:
CT 69 SS Norm Bloom and Son
CT 100 SS Hillard Bloom Shellfish
CT 38 SS Michael Oravez
CT 1247 SS A.C. Stabell *In state only
CT 154 SS Tallmadge Land and Sea
CT 136 SS Pramer Oyster
The following dealers received notice from state officials that their product was affected:
CT: Jeff Northrup dba Westport Aquaculture CT 40 SS
CT: CT Shellfish CT 167 SS
CT: Sono Seafood CT 253 SS
CT: Steven Burt Seafood CT 170 RS
CT: Steven Burt Seafood CT 170 RS
MA: Cape Cod MA 3257 SS
MA: North Coast Seafood MA 437 SP
MA: Cape Cod MA 3257 SS
MA: Foley MA 4264 SS
MA: Pangaea MA 9169 SS
MA: Steve Connolly MA 3075 SS/MA 4793 RP
ME: Spinney Creek ME 271 DP
ME: JP Shellfish ME 352 SS
NY: Bronx Fish NY 523 RS
NY: Val's Ocean NY 521 SS
NY: John Nagle Co. MA 940 SS
NY: K & B Shellfish NY 708 SP
NY: Grand Central Oyster bar Restaurant
NY: Blue Island NY 847 SS/NY 750 SS
NY: Meat Without Feet NY 783 SS
NY: Mr. Shellfish LLC NY 827 SS
PA: Samuel and Son PA 2566 SP
RI: American Mussel RI 234 SS
If ingested, the bacteria that's known as Vibrio parahaemolyticuscan cause acute stomach illness.
The Connecticut Department of Public Health officials said any establishments shoud report any illnesses.

For more information of the recall, click here, www.ct.gov/doag/cwp/view.asp?Q=529440&A=1401
Copyright 2013 The Associated Press. All rights reserved. This material may not be published, broadcast, rewritten or redistributed