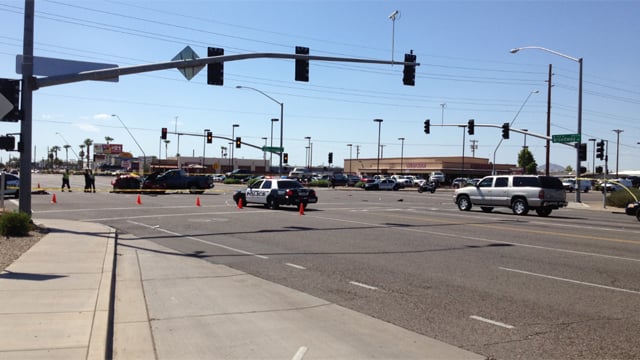 Mesa crash kills one person, injures four others. (Source: Serjio Hernandez, cbs5az.com)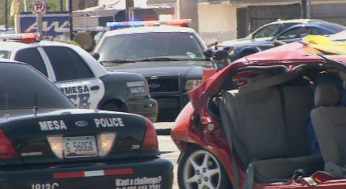 (Source: CBS 5 News)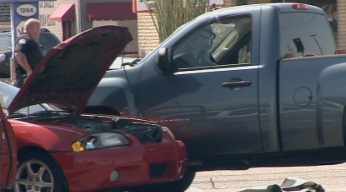 (Source: CBS 5 News)
MESA, AZ (CBS5) -
A 27-year-old man is facing charges of manslaughter and aggravated assault after slamming into one vehicle after another in the Mesa area, police said.
On Aug. 11, Matthew Crisp was driving a Chevy truck that rear-ended a Toyota Scion at Solomon and Broadway Road, according to the police report. He took off, but the driver of the Toyota followed Crisp and told police that the suspect drove over the sidewalk to pass vehicles stopped at a red light at the intersection of Center and Broadway Road. The witness said the truck headed westbound on Broadway Road at Country Club and saw the suspect go up on the sideway between six and eight times near Center Street and Extension Road, according to the police report.
Crisp's truck continued speeding in the area and rear-ended a Nissan car, pushing it out into the intersection where it was struck by a Mitsubishi truck that was heading northbound on Alma School Road.
According to the police report, Crisp then hit a GMC Suburban and the driver's side rear passenger, Jared Carter, 35, died on impact.
Four other people in the Suburban were injured.
Crisp had to be freed from the wreckage. At the hospital, Xanax was found in Crisp's wallet. Police said Crisp admitted to recent soma, Percocet and Xanax use.
He was arrested on one count of felony manslaughter and four felony counts of aggravated assault.
Copyright 2013 CBS 5 (KPHO Broadcasting Corporation). All rights reserved.