A Scottsdale police investigator looks for clues after a shooting at a Scottsdale smoke shop Tuesday evening. (Source: CBS 5 News)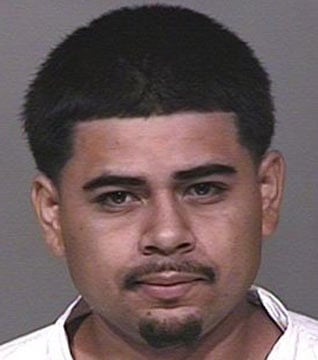 Dominic Gomez is accused of firing a gun inside the smoke shop. (Source: Scottsdale Police Department)
SCOTTSDALE, AZ (CBS5) -
A 20-year-old man was arrested by police after a shooting inside a Scottsdale smoke shop Tuesday night.
Dominic Gomez is suspected of firing a handgun in the Quality Smoke Shop, 7110 E. Thomas Rd., about 8 p.m., Scottsdale Police Officer David Pubins said.
Gomez and 17-year-old boy went to the shop and allegedly shoplifted some items when they were confronted by an individual in the store, Pubins said.
The suspects fled from the store but returned with a handgun and Gomez allegedly fired a round in the store and hit the customer in the head with the gun before fleeing again, Pubins said.
The suspects drove to an apartment complex at 7440 E. Thomas Rd., where they were eventually taken into custody by Scottsdale police.
The customer was taken to Scottsdale Healthcare-Osborn hospital for treatment of his minor injury and released.
Gomez and the unidentified 17-year-old were booked into jail. The charges were not available.
Copyright 2013 CBS 5 (KPHO Broadcasting Corporation). All rights reserved.