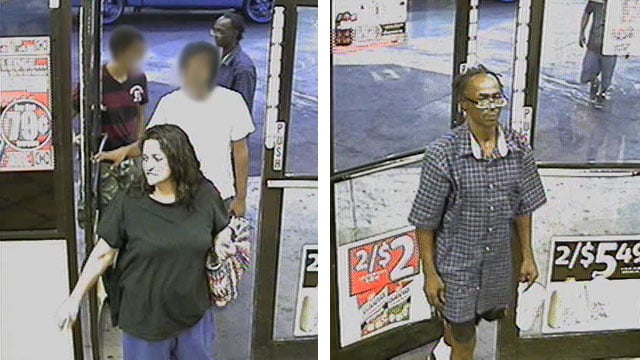 Glendale police are looking for this woman and man in connection with the theft of a credit card from a convenience store employee in July. (Source: Glendale Police Department)
GLENDALE, AZ (CBS5) -
Glendale police were looking for a woman suspected of stealing a credit card from a convenience store worker and using it at multiple locations in the city.
The woman walked into the store near 5900 W. Bethany Home Rd. about 7:50 p.m. July 17, walked to the back of the store and is suspected of removing a credit card from the employee's purse, said Glendale Police Officer Tracey Breeden.
She took the card to make purchases throughout the city, Breeden said.
The woman is described as white, 40 to 50 years old, 5'2" tall, 180 pounds and with dark hair. She was wearing a black shirt, black or dark purple capri shorts and sporting a blue or green bandage on her right hand.
She was seen with a black man wearing glasses and a checkered shirt. The woman is the primary suspect and the man is considered an investigative lead, Breeden said.
Anyone with information about the suspect or the man with whom she was seen is asked to call the Glendale Police Department at 623-930-3000 or Silent Witness at 480-WITNESS (480-948-6377).
Copyright 2013 CBS 5 (KPHO Broadcasting Corporation). All rights reserved.