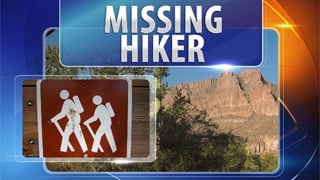 FLAGSTAFF, AZ (CBS5) -
A 24-year-old hiker was rescued on a canyon ridge after he separated from his group in northern Arizona, the Coconino County Sheriff's Office said.
The man was last seen at around 7 p.m. Monday in the Bear Jaw Canyon area of the San Francisco Peaks.
When the rest of the group returned to their vehicle at the trailhead several hours later, their companion was not there.
Sheriff's deputies and search and rescue personnel mobilized and enlisted help from the Arizona Department of Public Safety Air Rescue Unit.
The hiker was eventually located at around 2:20 a.m. Tuesday, at a ridge between Bear Jaw Canyon and Reese Canyon.
He was in good condition and reunited with his hiking companions at the trailhead.
Copyright 2013 CBS 5 (KPHO Broadcasting Corporation). All rights reserved.