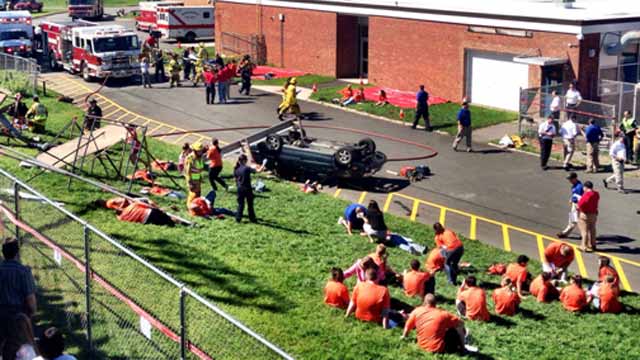 Channel 3 Photographer Kevin Galliford sent in this photo of the drill
VERNON, CT (WFSB) -
The town of Vernon is hosting a major, regional mass casualty drill Thursday.
The drill, called IMPACT (Integrated Municipal Preparedness and Collaborative Training), started at 10 a.m. at Rockville High School and is simulating a car crash into a bleacher full of people.

The exercise involves dozens of patients with injuries and props to make the scene as real as possible. It is also involving more than 100 police officers, firefighters, emergency medical services and school officials from across the region.
The event is being held in conjunction with the Capitol Region Council of Governments, who has provided partial funding for the exercise.
The drill is expected to last until 1 p.m.

Copyright 2013 WFSB (Meredith Corporation). All rights reserved.