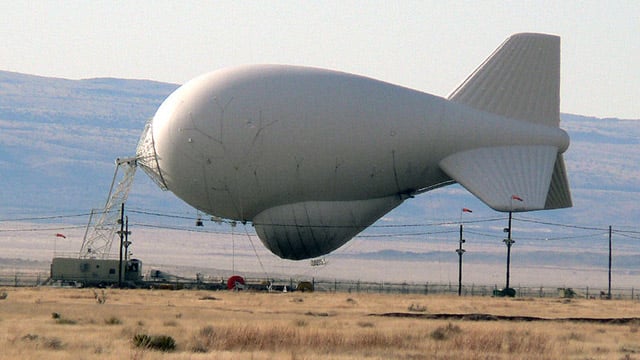 The Aerostat system uses giant tethered balloons in Texas, New Mexico and Arizona to scan the border area with radar to detect low-flowing aircraft carrying drugs or other contraband. (Source: Wikipedia)
YUMA, AZ (AP) -
The U.S. Department of Homeland Security has assumed control of radar blimps used to monitor the U.S.-Mexico border.
Spokesman Bill Brooks of the Customs and Border Protection told the Yuma Sun that the department accepted the Aerostat system from the Air Force earlier this summer and will manage and maintain it for the foreseeable future.
The Aerostat system has been in use since the 1980s.
It uses giant tethered balloons at locations in Texas, New Mexico and Arizona to scan the border area with radar to detect low-flowing aircraft carrying drugs or other contraband into the United States.
Aerostats also deployed in Florida and Puerto Rico.
Copyright 2013 Associated Press. All rights reserved.