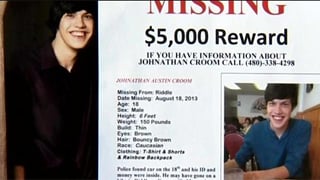 PORTLAND, OR (CBS5/AP) -
The body of an Arizona teenager missing since last week has been found near the spot where his SUV was abandoned in a wooded area, a southern Oregon sheriff's office said.
Douglas County sheriff's spokesman Dwes Hutson said in a statement that 18-year-old Johnathan Croom's body was found Monday evening about 1,000 feet from his vehicle. Hutson said the death "is being investigated as a suicide."
The teenager's father, David Croom, said his son and a friend he was visiting in Washington state were intrigued by the movie Into the Wild.
Before leaving Washington, Jonathan Croom's friend gave him some camping gear, a survival book and a sweatshirt, David Croom told CBS 5 News.
Then his son disappeared, leaving his identification, money and everything else inside his SUV, which was found by sheriff's deputies in Riddle, OR.
Jonathan Croom was supposed to start at Mesa Community College this week after coming back from the solo road trip to Seattle.
Copyright 2013 CBS 5 (KPHO Broadcasting Corporation). All rights reserved. The Associated Press contributed to this report.