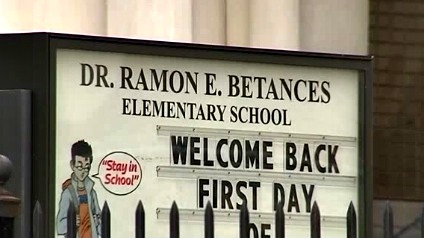 NEWTOWN, CT (WFSB) -
Schools across Connecticut begin classes Tuesday and many will see changes in security, including adding armed guards in some schools.

Since the shooting at Sandy Hook Elementary School in Newtown last December, a number of school districts have added resource officers or security guards.
Officials in Enfield have hired 18 part-time armed security officers to guard its schools.
The new security officers are former police officers who have gone through physical, firearm and psychological testing.
"I think the goal of course is zero casualties in the building," said Enfield Police Chief Carl Sferrazza, "If we can save one life it's worth it, because I can't put a value on an individual child's life."
Officials in East Hartford are using school security funds to update access controlling systems at its schools.
While many districts are making changes to security on an individual basis, a statewide panel is looking at uniform changes for all districts around the state. Earlier this summer, the panel made several recommendations including bulletproof glass at schools, solid cord doors with computer controlled locks and a buzzer entry system.
Copyright 2013 WFSB (Meredith Corporation). All rights reserved.