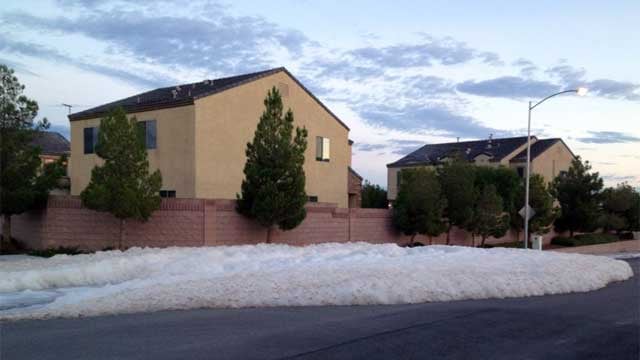 Foam covers part of a northwest Las Vegas street after a flood in the area on Aug. 26, 2013. (Source: Robert Chavez)
LAS VEGAS (FOX5) -
As if the washed-out, debris-filled roads weren't enough, Sunday's torrential rain in the northwest part of the Las Vegas Valley also produced a mysterious foam.
FOX5 viewer Robert Chavez sent in pictures of the foam, which appeared to be covering a large portion of a road and spilling into a nearby yard near El Capitan Way and Grand Teton Drive.
Jace Radke, spokesman for Las Vegas city government, said the foam was caused by fire retardant that was used to battle the massive Carpenter 1 wildfire near Mt. Charleston last month. He said the retardant was washed into the Las Vegas Valley by Sunday's storm that formed over the mountain and dumped heavy rain for hours.
Dennis Campbell, of the Southern Nevada Health District, said the retardant was composed of water, fertilizer and coloring. He said the fertilizer mixed with the organic material in the drainage system and produced the foam, similar to what happens at the base of waterfalls or along a coast line.
Campbell said the foam is not toxic, but recommends people and animals stay away from it. He said crews were scheduled to clean up the bubbly mess Tuesday afternoon.

Radke said the mound of foam was 40 feet wide and about 4 feet high at its peak.
Copyright 2013 KVVU (KVVU Broadcasting Corporation). All rights reserved.