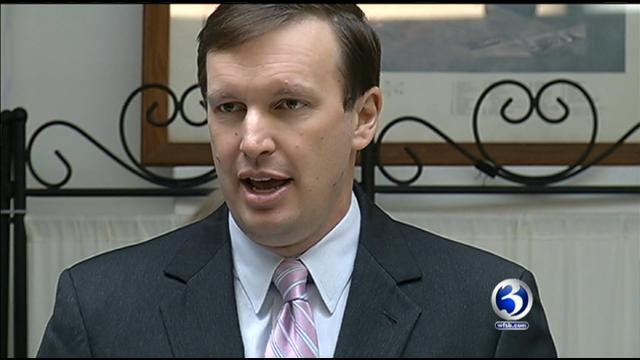 HARTFORD, CT (AP) -
U.S. Sen. Chris Murphy is calling for the administration to exercise restraint as it considers its response to Syria's alleged use of chemical weapons against civilians.
The West and the Arab League assert that President Bashar Assad's government was responsible for an alleged Aug. 21 chemical attack on civilians that the group Doctors Without Borders says killed 355. Assad denies that.
The Connecticut Democrat says there's little chance targeted air strikes would destroy Syria's chemical weapons stockpiles. He said Tuesday such intervention in Syria's civil war could prompt a reaction from Assad and draw the U.S. into a wider conflict.
"There is no longer any question that Bashar al-Assad has used chemical weapons to commit unspeakable atrocities against the people of Syria-his actions are absolutely reprehensible and in blatant violation of international law," Murphy said. "In the short-term, however, there is little chance that targeted air strikes would destroy Syria's chemical weapons stockpiles, making the strikes little more than a slap on the wrist."
U.S. Defense Secretary Chuck Hagel said Tuesday U.S. forces were ready to act if President Barack Obama decides to order an attack against Syria.
Murphy said the U.S. shouldn't take military action without Congressional authorization.
"Moreover, those air strikes would prompt a reaction from Assad as well as the countries that finance his murderous regime," Murphy said. "Before engaging in a military strike against Assad's forces, the United States must understand that this action will likely draw us into a much wider and much longer-term conflict that could mean an even greater loss of life within Syria."

Copyright 2013 The Associated Press. All rights reserved. This material may not be published, broadcast, rewritten or redistributed.