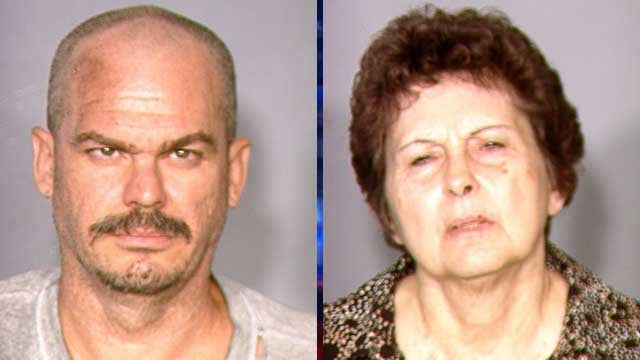 David Brutsche (left) and Devon Newman (Source: LVMPD)
LAS VEGAS (FOX5) -
Prosecutors have dropped two of the three charges against a couple arrested last month, accused of plotting to kidnap, try by jury and execute police officers.
Devon Newman and David Brutsche, who police said identified as members of the "sovereign citizens" movement, were arrested last month after a months-long investigation into the plot. Investigators said the couple wanted to kidnap a police officer, try the officer in a "sovereign" court for treason and then execute the officer.
Both suspects were charged with conspiracy to commit murder, conspiracy to commit kidnapping and attempted first-degree kidnapping with use of a deadly weapon. A judge granted bail for both of them.
On Tuesday, prosecutors released an amended complaint showing that the conspiracy to commit murder and attempted first-degree kidnapping charges were dropped for both Newman and Brutsche.
Both suspects told FOX5 during jailhouse interviews that they never intended to harm any police officers, but rather shed light on officers who violate the civil rights of others.
Both Newman and Brutsche were being held in the Clark County Detention Center.
Copyright 2013 KVVU (KVVU Broadcasting Corporation). All rights reserved.