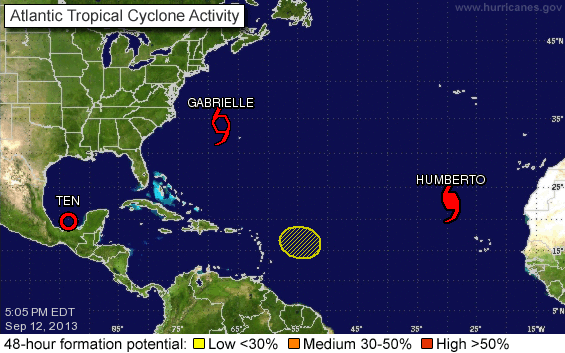 this graphic was produced by the National Hurricane Center
Cool Front on the Way: A front is poised to move past us tomorrow, but the majority of the cooler air won't make an appearance until Friday night and Saturday. Ahead of that front, we'll still have the potential for scattered storms again tomorrow, although mainly early in the day.
This weekend looks primed for outstanding conditions. Low humidity, cool temperatures along with plenty of sunshine should make it a great weekend to be outside!
Tropics Warming Up: As of this evening, there are three systems of interest.
1. Gabrielle has re-organized and is positioned well to the east off the NC coast (just west of Bermuda). This storm will continue tracking north and won't pose a threat of landfall. We're not expecting impacts of anything more than some rip currents along the shores of SC and NC for this weekend.
2. A newly formed tropical depression has organized in southern Gulf of Gulf of Mexico. Organization is sufficient enough (yet) for this system to acquire a name. The system will likely track west into Mexico and not pose much of a threat to Texas or to our forecast conditions here in the Carolinas.
3. Humberto is positioned FAR away off the coast of Africa. It will continue to move northwest and likely won't pose a threat to the US or to the Carolinas.
___________________________________________________________________________