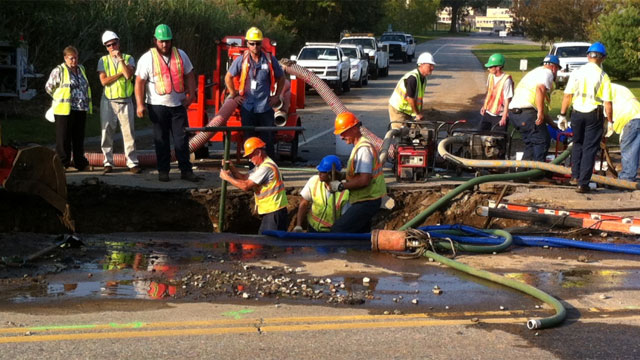 Crews digging up the problem area after a water main break Wednesday.
GROTON, CT (WFSB) -
Traffic will be diverted on Route 1 in Groton on Saturday as crews continue to fix a water main that broke early this week.
A 10-inch main broke on Route 1 on Wednesday, which caused at least eight restaurants and some homes to lose water service for a few days.
Route 1 will be closed between South and Buddington roads Saturday as repairs are being made.

Police have put in place the following detours:
Westbound traffic will be diverted onto South Road, to Runway Lane, to Tower Ave, to High Rock Road, to Poquonnock Road.
Eastbound traffic will be diverted onto Buddington Road, to Gold Star Hwy, to North Road.
The repairs are expected to take all Saturday and drivers are being advised to avoid the area.
"Because of the reverse of flow, changes in pressure customers will experience an aesthetic problem of discolored water," Groton Public Utilities GM Rick Stevens previously said. "The water is safe to drink."
Copyright 2013 WFSB (Meredith Corporation). All rights reserved.