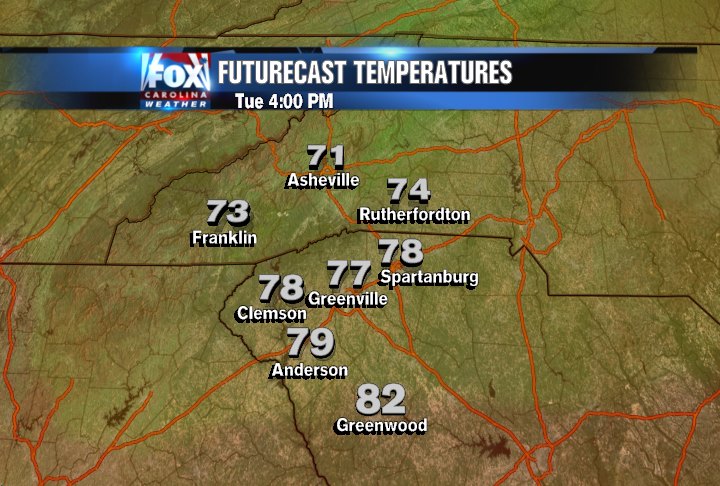 Take a look at those temps for tomorrow (see graphic)! It will be much cooler, with a breeze and some clouds.

A cold front will be coming through tonight, and that could bring a couple of showers and isolated t-storms across our area, but most spots will stay dry. We will notice cloud cover building area-wide, and cooler air blowing in from the northeast by tomorrow morning. We'll be under a cool air wedge pattern for Tuesday and Wednesday, meaning that a northeast/east wind will push cool air in, and it will get wedged up and trapped against the mountains. This leads to cool, breezy and cloudy days, especially along the 85 corridor. The pattern should break by Thursday, and we'll get more sunshine and warmer temps.
I hope you enjoyed the weather over the weekend! It was great to finally take Stella outside for longer periods, because during hotter days she really doesn't like to be out for long! Tuesday and Wednesday won't be as "pretty", but the cool weather we enjoyed will be back! In fact, some areas may not warm out of the 60s if the cloud cover stays thick and persistent.