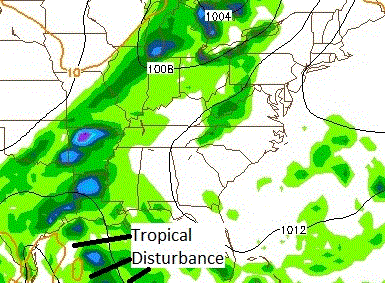 this is a forecast panel showing this morning's version of the GFS valid for Friday evening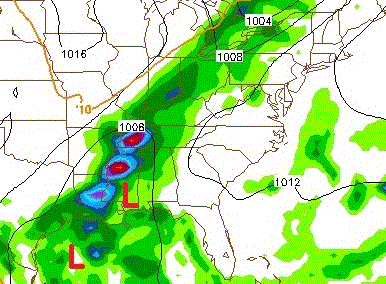 this is a forecast panel showing this morning's version of the GFS valid for Saturday morning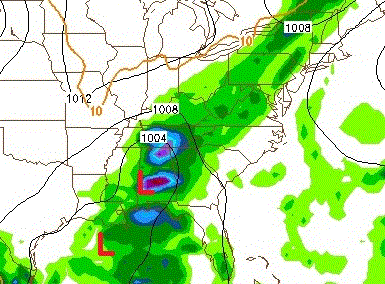 this is a forecast panel showing this morning's version of the GFS valid for Saturday evening
this is a forecast panel showing this morning's version of the GFS valid for Sunday morning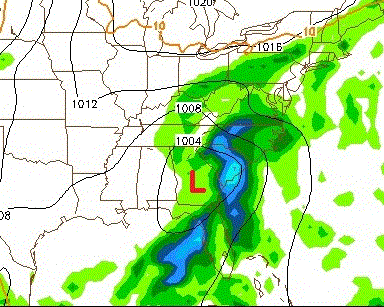 this is a forecast panel showing this morning's version of the GFS valid for Sunday evening
Cool Today: Get ready for a really nice day outside as Wednesday will feature a mix of sun and clouds along with low humidity and cool temperatures. After morning lows dipping into the 50s and 60s, afternoon highs will range between 73° and 77° for Upstate towns with highs in the low 70s in Western NC. I expect clouds to bulk up a bit this afternoon.
We Stay Dry Thursday & Friday: Expect more sunshine than clouds on Thursday and Friday as humidity increases some, although it won't be all that high. Temperatures will warm more due to the added sunshine. Highs will reach the low 80s in the Upstate/NE Georgia and Western NC can expect middle 70s.
Tropical Disturbance - As of Now: An unnamed tropical wave will continue to spin in the southern Gulf of Mexico during the next couple of days. This system will deliver heavy rains to Mexico and southern Texas from now through Thursday.
At the same time, an upper-level system will cruise into the Midwest and be poised to move into the lower Mississippi Valley by Friday. This upper-level low pressure system will be responsible for picking up what's left of the tropical system by Friday and transporting that abundant moisture north and northeastward in our direction.
Weekend Soaker - Potentially: Just as Kendra alluded to in her blog post from yesterday, we have some potential for soaking rain around here this weekend. This would be a big change-up considering our recent run of dry weather we've had which book ended a very rainy June and July.
I have compiled some forecast model slides to the right so you can view how this may come together. For now, this isn't so much a forecast as it is just an outlook on what may be ahead for us. This situation for the weekend is primarily dependent on how much tropical moisture is absorbed by the upper level low pressure system.
____________________________________________________________________________