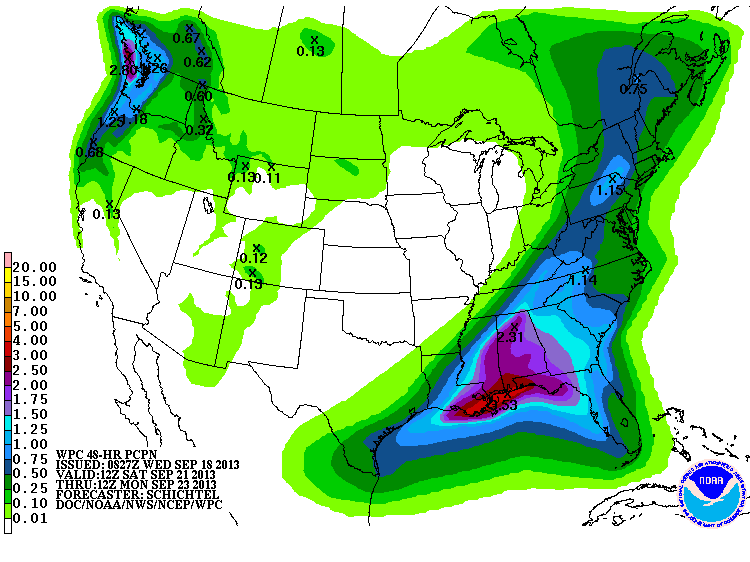 Rainfall estimates for Saturday-Sunday
I couldn't help but notice a lot of people taking their lunch, coffee, etc outside today! Temps have been kept in the 70s across the Upstate and 60s for much of the mountains! Tomorrow we'll notice warmer conditions as our wind switches from northeast to south. Highs will rebound back into the low 80s for the Upstate and mid 70s for the mountains. We'll have about a 20% chance of showers both Thursday and Friday, and the best chance will be in western NC.
The weekend is when it gets really interesting. A cold front will approach on Saturday, and it will tap into a good amount of moisture. In fact, it may pick up some tropical moisture from a developing system to our south (more on that in a sec). We could even have a few t-storms, especially in western NC late day on Saturday. On Sunday we may have some lingering rain as a disturbance develops along the front as it pushes south. Sunday is the trickiest day, because it could be really rainy or possibly totally dry! Hopefully our models will come in better line with each other by late week! For now, expect showers Saturday and be ready for a potential washout Sunday! HPC is predicting around an inch of rain for the Carolinas and Georgia this weekend.

Jerry may form soon in the Bay of Campeche, which would also help to push some gulf moisture toward that cold front I mentioned earlier. Because of this, any showers or t-storms that develop will have the potential to be some super-soakers! Best chance for rain comes late Saturday into early Sunday as it looks now!