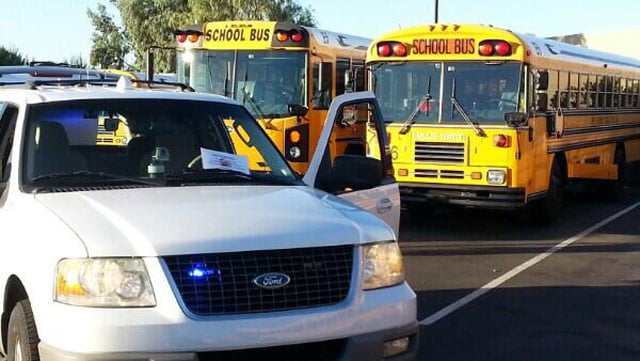 Batteries were stolen from 18 school buses in the Tempe Elementary School District on Monday night, causing early-morning delays in the routes. (Source: Jose Miguel / CBS 5 News)
TEMPE, AZ (CBS5) -
Tempe Elementary School District buses were back on schedule Tuesday morning after thieves stole batteries from 18 school buses overnight.
Mechanics worked to replace the more than 34 stolen batteries with those from buses undergoing maintenance in the district garage, according to the district's website.
"As of 8 a.m., all buses are running on time," said a district spokeswoman. "No delays are expected for the rest of the day."
District officials said more than $4,500 in damage was caused and more than 1,000 students were affected by the delays.
The spokeswoman said that 13 of the 18 buses were for special-needs students. Some of the batteries that were stolen power the wheelchair lifts on buses, the spokeswoman said.
Only the batteries were stolen, at a cost of $150 each, and no other damage was done to the buses, the spokeswoman said.
For more information, visit the Tempe Elementary School District website.
Copyright 2013 CBS 5 (KPHO Broadcasting Corporation). All rights reserved.