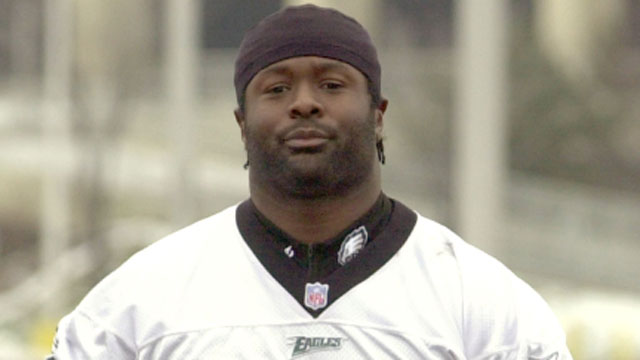 The following photo shows Hugh Douglas arriving at practice for Philadelphia Eagles on Jan. 23, 2002. (AP Photo/Dan Loh)
HARTFORD, CT (WFSB) -
Former National Football League player Hugh Douglas appeared in Hartford Superior Court on Tuesday.
Douglas was arrested in downtown Hartford after police said he violently attacked a woman at a hotel.
Police said Douglas got into a fight at a woman at the Marriott Hotel at Adriaen's Landing.
According to court documents, Douglas "grabbed her by the neck" and "slammed her into the walls several times." The court papers go on to say that Douglas told investigators the victim's injuries happened during rough sex.
Douglas was charged with third-degree assault and second-degree strangulation. Douglas was arraigned on Tuesday and his next court appearance is Oct. 21.
During his 10-year NFL career, Douglas played for the New York Jets, Philadelphia Eagles and Jacksonville Jaguars.
Douglas was hired by ESPN to work as a football analyst in 2011, and was one of the hosts of the television show Numbers Never Lie, but has since left the network.
To read the full arrest warrant, click the following link, http://bit.ly/18ZQjlL.

Copyright 2013 WFSB (Meredith Corporation). All rights reserved.