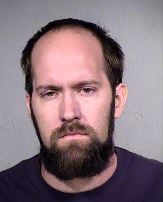 Jonathan Beyers (Source: Maricopa County Sheriff's Office)
PHOENIX (CBS5) -
A Phoenix man is in jail accused of multiple sexual abuse crimes against a child, the most severe happening nearly a year ago.
According to the probable cause statement, police received a report that Jonathan Beyers, 34, took photos of a 14-year-old girl from under her dress.
Beyers' wife told police she found a jump drive on her husband's computer with multiple sexually explicit photos, including photos with the minor.
A search warrant was issued and detectives found a series of images on a thumb drive of the teen naked. Police said the photos came from a cell phone and were taken on Oct. 7, 2012.
Beyers was arrested by Phoenix police on Wednesday on one count of molestation, one count of sexual exploitation and one count of lawfully recording.
The police report said Beyers admitted to taking the sexually explicit photos.
Copyright 2013 CBS 5 (KPHO Broadcasting Corporation). All rights reserved.