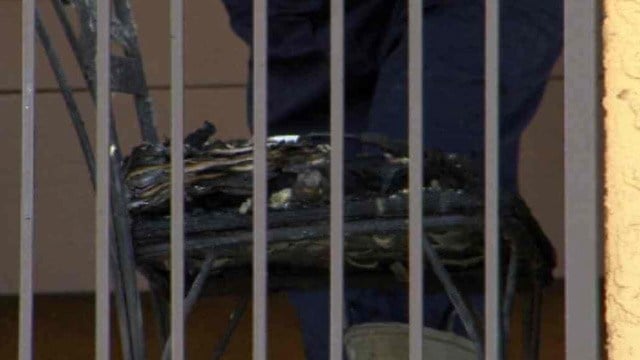 A Glendale firefighters inspects a chair that burned in an apartment fire believed to have been started by a toddler. (Source: CBS 5 News)
GLENDALE, AZ (CBS5) -
A toddler playing with a lighter is believed to have started a fire in a Glendale apartment Tuesday morning.
Glendale firefighter Jose Morales said three adults and two children, including the toddler, were able to escape the fire at 8:30 a.m.
Morales said the toddler told firefighters he started the fire in the living room that was contained to a piece of furniture and some other free-standing debris.
He said firefighters were able to respond fast enough to keep the fire from spreading from the furniture into the rest of the apartment and threatening adjacent units near 59th Avenue and Bethany Home Road.
He said four of the people lived in the apartment and the Red Cross had been called in to assist them with finding temporary housing after the fire.
Glendale fire officials say the department's Youth Firesetter Intervention Program provides customized educational interventions in situations like this fire. The program is free and available to any Valley youth between the ages of 3 and 17. The curriculum includes fire safety, education, fire science, the consequences of setting fires, burn injuries, and arson and fireworks laws. Click here for more information on the program.
Copyright 2013 CBS 5 (KPHO Broadcasting Corporation). All rights reserved.