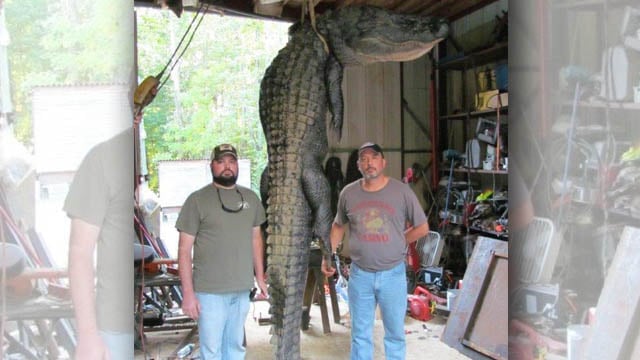 BUFORD, GA (CBS46) -
Two Georgia cousins caught a 656 pound alligator on Sept. 29, while gator hunting on Lake Eufaula along the Georgia-Alabama line.
It took Kenny Padgett of Cumming and Ben Yarbrough of Buford more than 12-hours to finally rustle up the massive gator.
"It was overwhelming. I was shocked. It literally when it surfaced, it looked like something prehistoric. It looked like a dinosaur," said Yarbrough.
The men told CBS Atlanta News once they hooked the gator, it darted deep into the murky water. But they were determined to catch him.
"Once we knew exactly what were dealing with, we knew we were going to wait it out. There were times you feel like is this worth it? When we saw him we were like [we'll wait] until he gets off or we catch him," said Padgett.
The 12.5-foot catch was so big the duo had to tie it to the side of the their boat to get it to shore.
They took the head and hide to a taxidermist.
They have plans for the meat too.
"We'll definitely enjoy some gator meat with the family," said Yarbrough.
Copyright 2013 WGCL-TV (Meredith Corporation). All rights reserved.