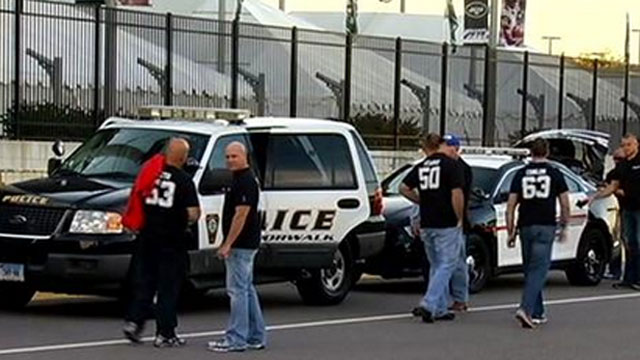 NEWTOWN, CT (WFSB) -
Officers from the Newtown Police Department got the chance Monday night to thank all of the Connecticut troopers and officers who supported them after the shooting at Sandy Hook Elementary School in December.

Police officers from around the state helped Newtown officers in the days and weeks after the shooting on Dec. 14 where 20 first-graders and six adults were shot and killed at Sandy Hook.
On Monday night, Newtown officers will have a chance to say "thank you" to all the officers who pitched in to help, with an event at Met Life Stadium in New Jersey.
They'll share a special video on the Jumbotron that Eyewitness News helped put together. The officers will spend the night having dinner, playing football with some retired New York Giants and just hang out.

At least 1,000 officers from other towns helped the Newtown Police Department, which has a staff of about 40 in the days and weeks after the shooting.
Police departments from across the state pitched in by working the Newtown officers' Christmas holidays and doing simple things such as year-end paperwork.
Monday night was about trying to get everyone back together without the pressure of what happened that day.
"This is opportunity for us to get back together obviously in a much lighter fashion," said Redding Police Chief Doug Fuchs. "But to be there for each other. And to allow Newtown, who really wants to say thank you."
Copyright 2013 WFSB (Meredith Corporation). All rights reserved.