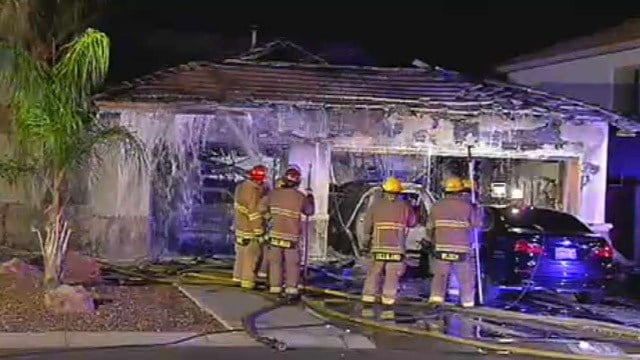 Two cars were destroyed and another damaged by this garage fire in Peoria on Wednesday morning. The family got out safely. (Source:CBS 5 News)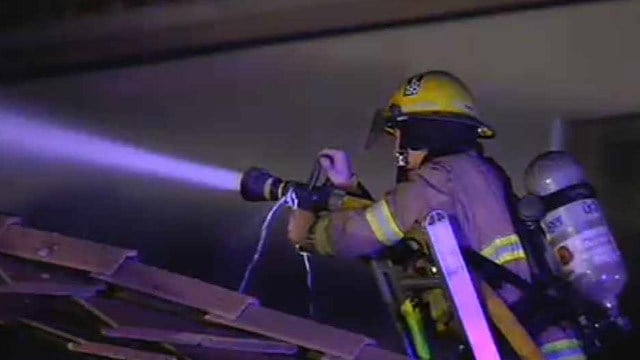 A Peoria firefighter sprays the roof of the garage. (Source: CBS 5 News)
PEORIA, AZ (CBS5) -
A family of five is safe, but two cars were destroyed in a garage fire early Wednesday morning in Peoria.
Two adults and three children, including an infant, were awakened by smoke detectors shortly after midnight, said Capt. Rob Brewster of the Peoria Fire Department.
Brewster said the garage was fully engulfed when firefighters arrived. The vehicles in the garage were a total loss and a passenger car in the driveway was badly damaged, although the family was able to move a truck in the driveway to safety.
The house is in a gated community near Lake Pleasant Parkway and Jomax Road. The family will need to find temporary housing, Brewster said.
"They are fortunate they had working smoke detectors in the house," Brewster said. "A lot of times, you don't see that when a tragedy is involved."
No one was hurt, Brewster said.
The cause was still under investigation, and Brewster said no estimate of damage was available.
Copyright 2013 CBS 5 (KPHO Broadcasting Corporation). All rights reserved.