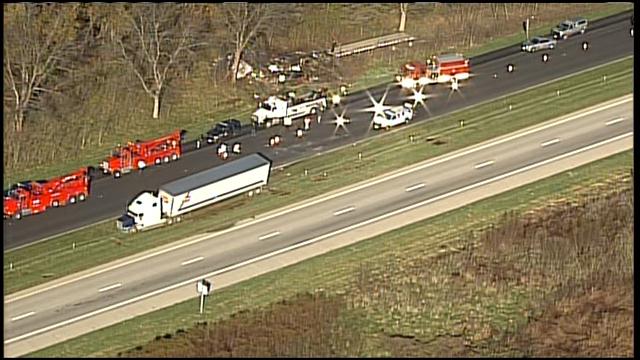 DEARBORN, MO (KCTV) -
A semi crash closed southbound Interstate 29 just south of St. Joseph.
The crash happened about 8:30 a.m. Friday just north of the Dearborn exit. The semi's driver was killed.

Chopper5 showed the semi wound up shattered in trees adjacent to the highway.
Eric P. Gouin, 40, of Norfolk, NE, was driving the 2006 International when the semi left the road and struck a large tree head on. Gouin was pronounced dead at the scene at 8:56 a.m.
It wasn't immediately clear why he lost control.

The Missouri Department of Transportation said the highway was closed at mile marker 30 near the Platte and Buchanan county line. Traffic was being diverted at ext 35 at Faucett.
All lanes reopened by Friday afternoon.

Copyright 2013 KCTV (Meredith Corp.) All rights reserved.