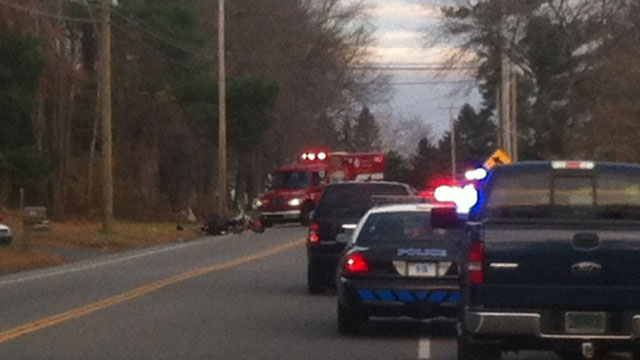 COVENTRY, CT (WFSB) -
A 71-year-old man was taken by Life Star medical helicopter after a two-car crash on Route 44 in Coventry Wednesday afternoon.
A crash, involving a 2011 Honda VT750 Motorcycle and 2004 Honda Pilot Sport Utility Vehicle, was reported at 2711 Boston Turnpike, which is also known as Route 44, around 2:45 p.m.
According to police, the SUV, which was being driven by 18-year-old Ahmed Ouda, was traveling westbound while the motorcycle, which was being driven by 71-year-old Leroy Brown, was traveling eastbound.
It is unclear what happened however, the two motor vehicles collided leaving both drivers injured in the crash.
Brown of Coventry was taken to St. Francis Hospital by Life Star. However, it is unclear what Brown's condition is.

Ouda of Coventry was taken to Rockville Hospital where he since has been treated and released.
Route 44 was closed for 2 1/2 hours while police investigated the crash and crews cleared debris from the roadway.

Metro Accident Team is investigating the crash. No arrests have been made. Anyone with any information is asked to call the Coventry Police Department at 860-742-7331.
Copyright 2013 WFSB (Meredith Corporation). All rights reserved