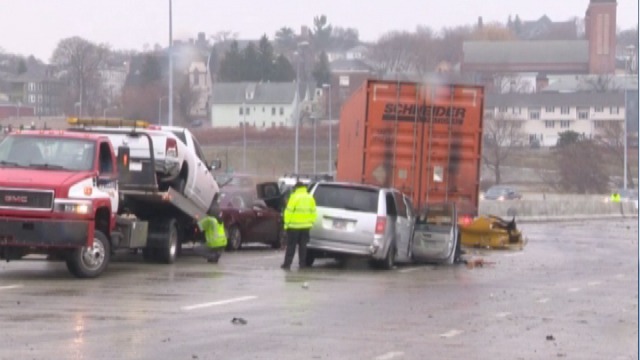 WORCESTER, MA (AP) -
Freezing rain is being blamed for several highway crashes in central and northern Massachusetts that sent dozens of people to the hospital.
Massachusetts State Police say a crash involving 65 cars and three tractor-trailers closed Interstate 290 in Worcester at about 7 a.m. Sunday.
About 35 to 40 people were taken to local hospitals. Two were seriously injured.
A State Police trooper who initially responded to the crash was also rear-ended. Police say she was forced to hurriedly return to her cruiser to avoid cars sliding toward her.
Both directions of the highway were reopened by 11:45 a.m., authorities said.
The National Weather Service issued a freezing rain advisory through 11 a.m. Sunday for much of western and central Massachusetts, northeast Connecticut and northwest Rhode Island.
Copyright 2013 The Associated Press. All rights reserved. This material may not be published, broadcast, rewritten or redistributed.