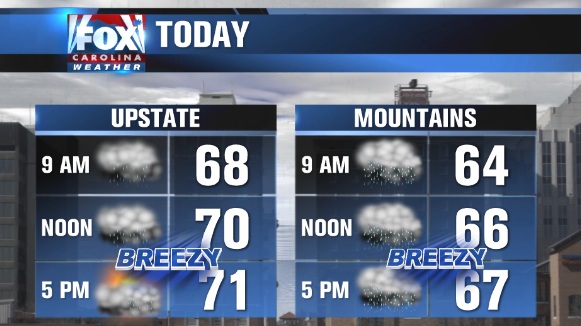 It's amazing how quickly the weather can change, and today, we'll see the last of our warmer-than-average pattern and bring back cooler air tomorrow. A cold front bringing soggy weather to us is currently bringing snow and ice to much of the Midwest. While the cold air is moving this way, we're only expecting wintry weather in a select few local areas this weekend.
Today, we stay in the warm sector ahead of the front, with temperatures reaching the low 70s Upstate, and upper 60s in Western NC. Rain showers are likely in NC today, with just a few light passing showers Upstate and in NE Georgia. The wind will pick up for all of us, gusting to 25mph in the Upstate and the mountains. By late tonight the front will push closer, bringing cooler air in the 50s and 40s overnight, as well as scattered rain weather for all.
Saturday will bring a mix of weather, starting off with morning rain, and then drying for a good portion of the day. Colder air sets in with highs only reaching into the 50s in the Upstate, with upper 40s in Western NC. Late Saturday into Sunday our next round of wet weather moves in, bringing scattered rain Upstate, and some wintry mix early in Western NC. For the most part, we're not expecting an overwhelming amount of issues from the wintry part of the storm, but in Yancey, Mitchell and McDowell counties, there is a Winter Storm Watch from midnight Sunday to midnight Monday. A layer of ice is possible as cold air makes it into those areas, but with temperatures moving back into the 40s by late day for everyone, road/power issues should be short-lived.