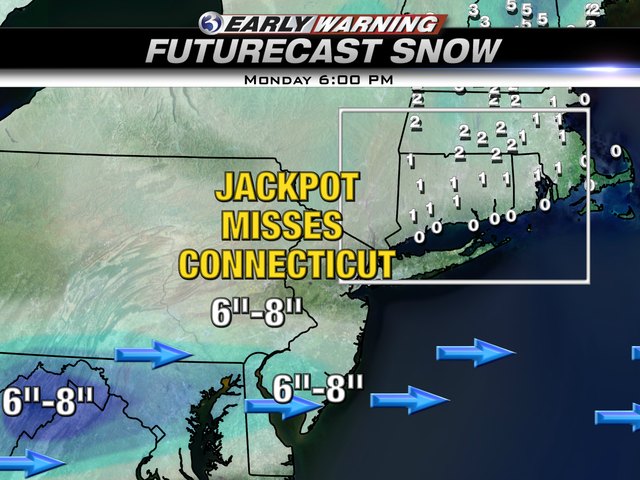 Connecticut is still on track for experiencing wintry weather of all sorts Sunday and Monday morning, possibly snarling traffic during the morning rush hour and delaying school for some children.
The storm responsible for Connecticut's impending icy mix took shape this morning and is now only a matter of hours and about a hundred miles from impacting the state.

Meteorologist Mike Cameron has been tracking the storm all weekend. "We originally though that the storm would fail to have good snowflake production capability based on what the models were telling us about the temperature and moisture production, giving us a very quick changeover to an icy mix. Heavy snow in the Mid-Atlantic this afternoon has shown this storm is much better capable of making snow than we thought. Instead of a coating, we may get a couple of inches after all; I'll be looking closely at the new model data."
According to Mike, snow will likely begin to affect southern Connecticut as early as Sunday evening with flurries, becoming a steadier snow after 9 p.m. in the southern part of the state. By midnight, the whole state will be covered with precipitation, with snow to the north and a mix of sleet and freezing rain south of Hartford. By sunrise, interior Connecticut, including greater Hartford, will be experiencing light sleet or freezing rain with plain rain along the Shoreline. All precipitation will dissipate as non-freezing light sprinkles and drizzle by 9 or 10 a.m. as temperatures rise above freezing.

The timing of the storm will cause traffic headaches Monday morning, with slushy conditions on treated roads and potential glaze on untreated side roads. By late morning, most roads should be just wet as warmer air arrives and melts the ice.

"We should not expect the same amount of snow they will have in parts of Pennsylvania and New Jersey as that energy is heading south of our state," Mike clarified. "But the ground should turn while in most areas overnight."