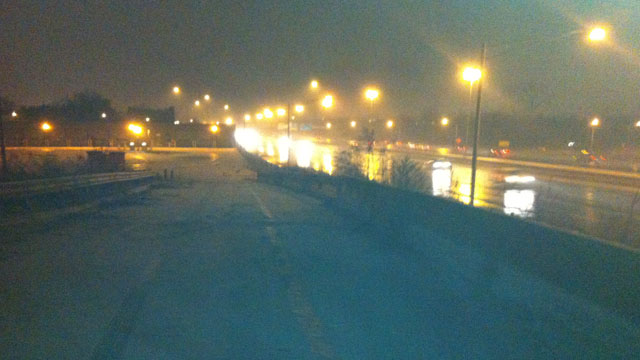 Your winter weather photos from Dec. 9, 2013.

More >

Your winter weather photos from Dec. 9, 2013.

More >
HARTFORD, CT (WFSB) -
Connecticut residents are starting off the work week with areas of wintry precipitation just in time for that Monday morning commute into work.
Slick travel is expected to remain in many areas of Connecticut for at least the first half of the day as snow and freezing drizzle continue to fall in some spots. As the morning progresses, a warm air mass will move in and will help to make that transition from a wintry mix to rain.
Channel 3 Early Warning Weather meteorologists Mark Dixon and Scot Haney said that even though the precipitation will change to rain, the roads will still be slushy and slippery.
When it comes to snow accumulation, this is no blockbuster event, Haney and Dixon said. Most of the state will see only an inch or two of snow that will get covered by the freezing rain before the rain starts to melt it all away.
While the shoreline will see temperatures Monday get to 40 or higher, colder air may be trapped far north along the Massachusetts border. Due to this, icy conditions may linger into the afternoon in some inland, valley locations.
Elsewhere, Monday afternoon will bring just plain spotty rain as it wrap up with temperatures peaking in the 30s.
Copyright 2013 WFSB (Meredith Corporation). All rights reserved.