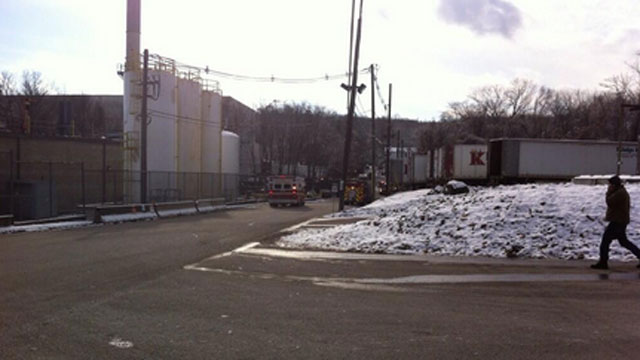 MONTVILLE, CT (WFSB) -
Two people were taken to an area hospital after a fire at a paper plant in Montville Wednesday afternoon.
Firefighters were called to The Rand-Whitney Containerboard LP on Route 163 just after 12 p.m. where a felt, belt moves paper goods through a huge industrial drier.
The fire marshals office told Eyewitness News the fire suppression sprinklers at the Rand Whitney extinguished the fire in the area that dries the paper products.
Investigators said an employee was treated and released at William Backus Hospital in Norwich for burns on his hands and face. Another employee suffered smoke inhalation.
Rand Whitney was shut down Wednesday morning for a planned maintenance upgrade.
The fire marshal estimates damage could be about $250,000.
Rand-Whitney is owned by William Kraft, who also owns the New England Patriots.
The cause of the fire is under investigation.
Firefighters from several departments in the surrounding area are assisting in fighting the blaze.

Copyright 2013 WFSB (Meredith Corporation). All rights reserved.