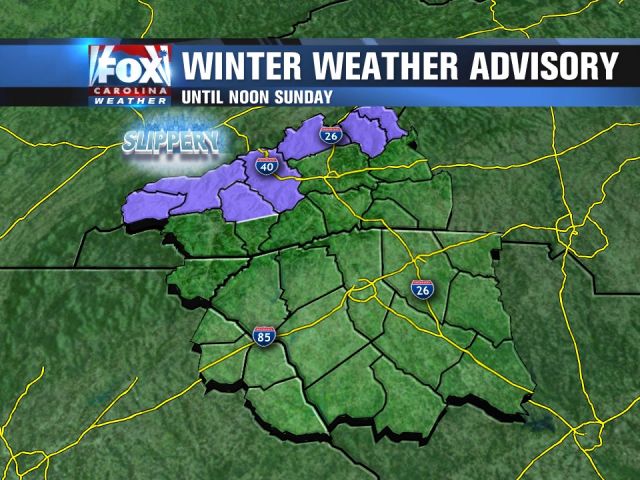 GREENVILLE, SC (FOX Carolina) -
A set of two low pressure systems were responsible for coating the entire East Coast with rain, sleet and snow this afternoon. The Greenville area measured over an inch of rain today while areas in the mountains were closer to three quarters of an inch.
Though the heaviest rain has pushed off to the east and west, this system will not go quietly into the night. Residual moisture will keep the upstate under a slight chance of rain tonight and allow some areas of patchy fog to develop. The mountains will have a few more issue to worry about.
With temperatures expected to drop below freezing in Western NC, we can see some of those light rain showers transition into freezing rain as the night progresses. A tenth of an inch of ice can form on surfaces which can cause travel to be hazardous. It is advised to drive cautiously and give yourself ample amount of time to get to your destination.
Freezing rain should dissipate by Monday morning as temperatures once again rise above freezing.
Now here is the good news. After the remnants of this system have left our region, high pressure out of the Gulf of Mexico will build and give us clear skies for the next several days. Accompanied with the clear skies we will see above average temperatures as well.
The next chance of rain won't be until late Friday evening as a result of low pressure moving across the great lakes. A system that may once again effect the entire Atlantic seaboard.