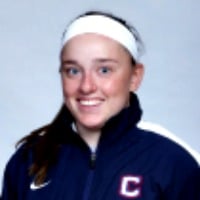 Courtesy: University of Connecticut
WILLINGTON, CT (WFSB) -
A former UConn lacrosse goalie was killed in a one-car crash Friday morning near campus.
According to police, 24-year-old Brittney Testa, of Bridgewater, VT, was killed when the car she was operating went off the northbound shoulder of Rt. 32 at about 9 a.m. Friday.
Police said Testa was traveling northbound on River Road just north of Baxter Road when she lost control of the 2004 Jeep.
Testa was not wearing a seatbelt at the time of the crash and was pronounced dead at the scene.
Testa was the starting goalie for the 2011 and 2012 seasons, according to the University's website.
Copyright 2013 WFSB (Meredith Corporation). All rights reserved.