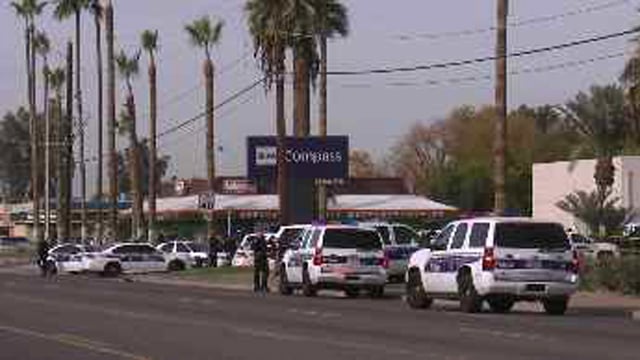 Scene of Phoenix robbery at Campass Bank. (Source: CBS 5 News)
PHOENIX (AP) -
The Secret Service says a man suspected in bank robberies in Mississippi and Phoenix over the last week was arrested in 2010 after making online threats against the president.
Secret Service spokesman Max Millien said Sunday afternoon that Mario Edward Garnett was living in Oklahoma City at the time of the arrest. Millien would not say how the case was resolved.
Garnett was fatally shot by a detective just after leaving a Phoenix bank with a bag of money Saturday morning.
The FBI says Garnett is the same man accused in the shooting death of a Mississippi police officer and the wounding of another just after a bank robbery in Tupelo on Dec. 23.
Investigators believe the same suspect also tried to rob a bank in Atlanta, hours before he shot the two officers.
Copyright 2013 Associated Press. All rights reserved.