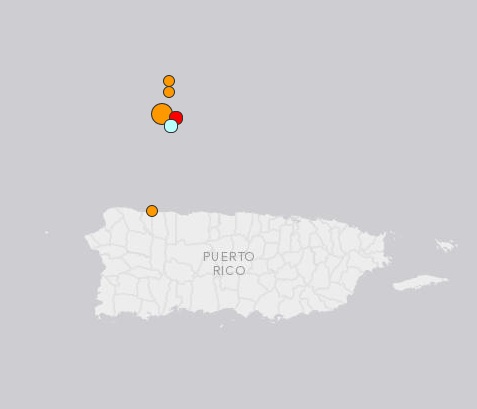 Image courtesy of usgs.gov
SAN JUAN, P.R. (WFSB/AP) -
A strong earthquake out to sea shook Puerto Rico early Monday, causing minor damage in some places.
Some people reported items falling in their home and dozens said they felt buildings sway in the capital of San Juan, about 61 miles from the quake's epicenter.
The U.S. Geological Survey said the quake had a preliminary magnitude of 6.4 and struck just after midnight about 35 miles north of Hatillo. It said the quake occurred 17 miles deep.
Puerto Rico's emergency management agency said there was no tsunami warning and that no injuries have been reported.
Several aftershocks have continued to shake the island since the quake.
Copyright 2014 WFSB (Meredith Corporation). The Associated Press contributed to this report. All rights reserved.